EduKitBeta is an feature rich educational board dedicated as an option to MU Beta emulator. It allows for debugging of both the simple and complex applications with the popular PIC® microcontrollers.
The combination of EduKitBeta board with MU Beta emulator is especially suitable for the users familiar with the basics of the microcontroller programming who want to enhance their knowledge about various typical integrated and external peripherals used in the real-world applications - A/D converters, analog comparators, timers, I2C communication (serial EEPROMs and thermometer), serial communication (RS232), etc. This board enables user to become an expert in the PIC® MCU programming.
---
The following peripherals are on the board:
4 potentiometers connected to analog inputs (A/D converter, analog comparator)
4-digit 7-segment LED display with 3-wire serial control
LED diode
2 pushbuttons
I2C devices: 24LC01 seriall EEPROM + LM75 thermometer
RS232 connector and level converter (connected to the PIC16F62x UART pins)
Piezo-buzzer (connected to the PIC16F62x PWM output pin)
Reset button
The board further contains power supply circuits and the connector to the emulator.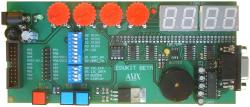 Supported devices
PIC16F627/628
PIC16C710/711/715
PIC16C712/716
PIC16C54C/56A/58B
PIC16C554/558
PIC16F84A
PIC16C620A/621A/622A
Features
Educational board for the MU Beta emulator
Many various peripheral options
Contents
EduKitBeta board
MU Beta connection cable
User's Manual